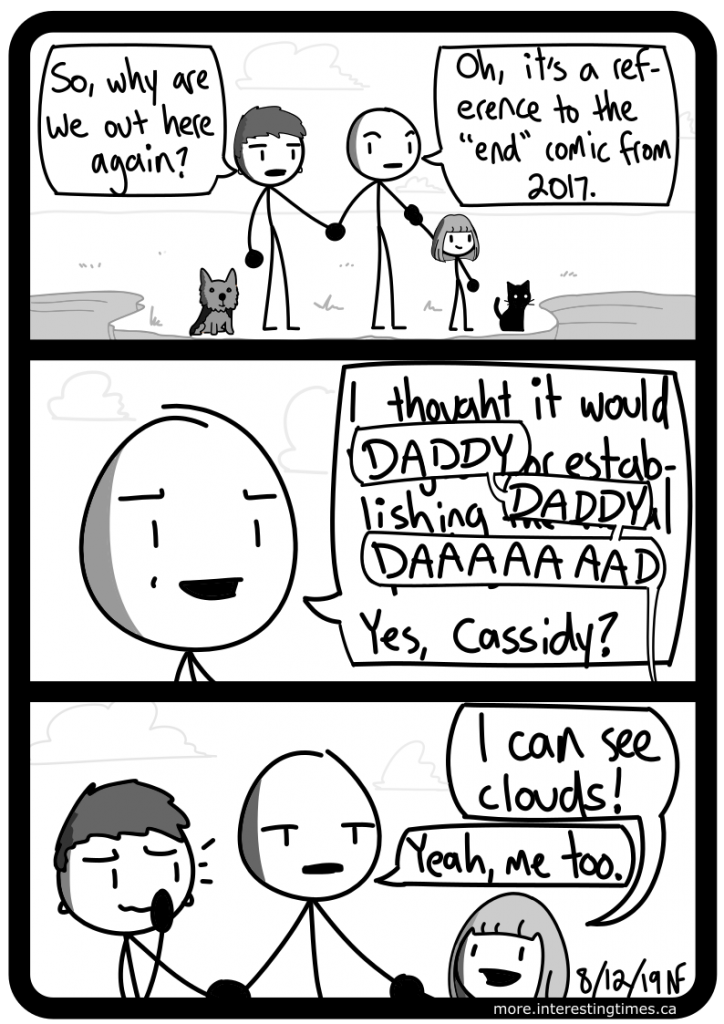 For those of you who are new to my comics, welcome here!
And for those who came back, welcome back!
So, the comic posted on June 6th, 2017? That one called "The End"? That seemed pretty definitive, didn't it? What are we doing back here?
It's like this: In 2017 we were dealing with both a new baby and the death of my Mom due to cancer. As I wrote at the time, making comics wasn't joyful or energizing to me anymore, so it was time to stop. This was the right call, and I don't regret it. But, life continues to change, and I've grown and changed, too, and as it happened I found myself casting about for a new hobby after a recent period of pretty bad stress. A hobby that 'refills' me, so to speak, rather than numbs or drains.
So I decided to try a test run at making new comics, and I realized my heart was in them again! But! I've changed, and my life has changed, and so my approach to making comics needs to be a little different than it was in the past; Not just my tools, but new thinking about when and how I create art these days, and the attitudes I bring to making and sharing it. Probably the changes will not manifest in significant ways to you, the reader, but I just wanted to share that I'm holding many of my original 'rules' and 'restrictions' with an open hand rather than a closed fist.
With all this in mind, and an eye toward preserving the original run of Interesting Times as a time capsule unto itself, I've decided to set these new comics apart. Hence the name "More Interesting Times" and a restart of the numbering system. I hope that's okay 🙂
New comics are planned to be posted Tuesdays and Thursdays. I've got a few queued up already (see? A backlog. Never had one of those. Changing things already). I think you'll like them., so please come along with me as I try this out again. I welcome the company!
p.s. I know the site design is barebones right now. if i tried to get every detail nailed down and perfect before posting anything, you'd never get more comics, so, just hang in there